Desert miracle in the Peru
When you remember that you are in a desert, you feel your skin's burning by the sun, and sometimes a turbulent sand storm blowing over the harsh environment. Since most deserts are located in the arid or semi-arid climatic region, it makes an annoying feeling in our minds. Can you even imagine living in a desertified area while bearing fiery winds and violent sandstorms? It is a breathtaking experience. However, the existence of a beautiful water park in the middle of such an extreme environment is an unbelievable and incredible thing.
However, it would be a real experience if you travel to Peru. After five hours of drive, you can reach the city called Huacachina, located southward to Lima of Peru's capital city. It is a rare find miracle that is hiding among the sand dunes. There is a green water lagoon located at center of this enriched oasis ringed with palm trees. And also, it is the only desert oasis you can find in South America. When you see the Huacachina oasis the first time, it feels like you are looking at a mirage in an abandoned desert.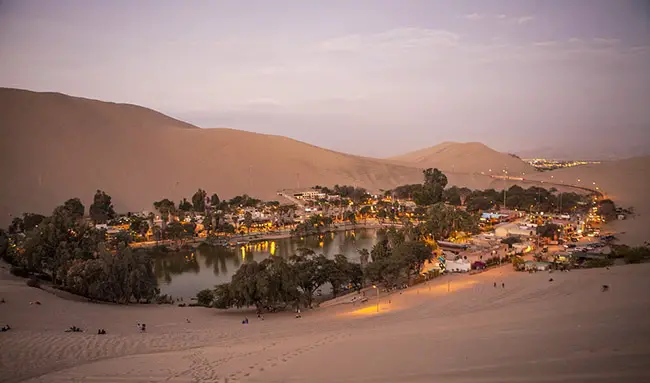 History as a tourist destination
During the decade of the 1960 s, there was a high tourist attraction for this state of Peru. Because there was a belief that bathing water, which is surrounded by palm trees and located in the middle of dunes, has a curing ability for several illnesses. After spreading this belief, wealthy people living near this area came to this oasis and built permanent residences and tourist hotels to supply tourists' accommodations.
A myth of originating Huacachina oasis
A fascinating chronicle has been created about this Huacachina sanctuary and the desert lake located in the middle of this oasis. According to the chronicle mentioned, a long time ago, one maiden named "Huwake china" was falling in love with a soldier. However, she heard that the soldier had died in the war. Then this maiden was suffered a lot from this incident and begin to mourn in agony. One day she has come to this area where they frequently met with bearing agony in her heart. After that, she accidentally sees that soldier's image through a mirror, and she gets afraid. At that moment, she has started to run away. Then the mirror fell and converted into this lagoon. This chronicle said that maiden "Huwake" was diving through this lagoon and became a mermaid. However, this myth is an interesting story.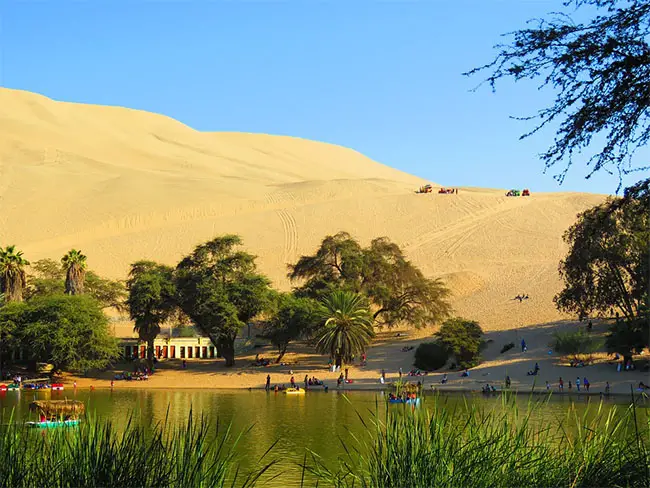 Current tourist attraction
The visitors coming for the Huacachina can get a chance to take a flight to see the Nazca lines. Watching penguins, sea lions, and ride boat are the other activities you can do. If someone is entering into this oasis, it feels like a magical world. Somehow, after several minutes they can realize this is a real city that exists in the real world. The only difference is this city is an isolated one in a desertified area. However, this city continuously maintains its deal with the outside world. This wonderful city hidden among the sand dunes provides comfortable accommodations, various types of food and beverages, and even western-style liquor shops for reviving. So anyone can visit this place and enjoy it very well by partaking in their hospitality.
Things to do in Huacachina
Especially, one of the fascinating things for tourists is to enjoy the warm ocean as sandplain stretches around the city of Huacachina in the day time. Afterward, sit on it for the rest of the evening and watch the sunset from the far west end. The golden color paint on the sandplain with the sunset is an honestly mind relaxing sight to behold.
Center lagoon boat service in Huacachina
The center lagoon has created by the continuous nourishment of an underground aquifer. However, with the increase of population in Huacachina, the water level of the lagoon started to decrease. Underground aquifer has affected by the groundwater exploitation by well-drilled around the region. To compensate for the water loss, local people in business began refilling water brought from outside. It helped to preserve the oasis as a tourist destination. The permanent residents and people in business provide boat service to the tourists who like to visit this lagoon.
Desert safari with Dune bunny
Besides, light vehicles that can travel between the Peruvian sand dunes make it a popular destination. There are opportunities to rent a lightweight vehicle that can drive through dunes for any tourist. This light vehicle is popularly known as dune buggy in this area. You can go enjoying sand wind feeling if you can pay 50 dollars per hour and travel around. Otherwise, it is possible to travel as groups in such a light vehicle in this beautiful sand plains.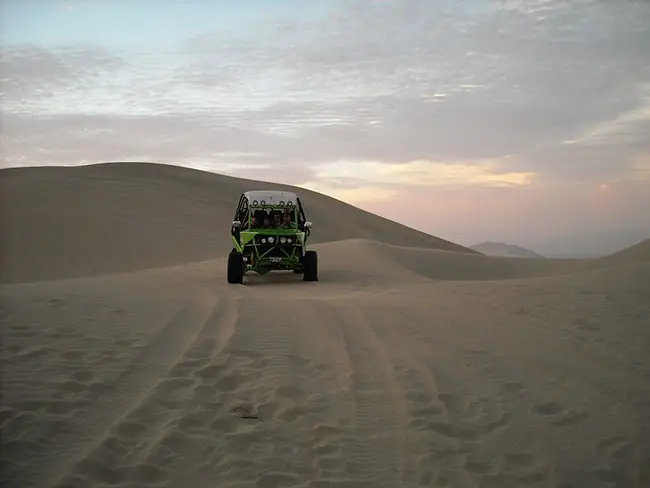 Sandboarding on dunes
There is another adventure sport that delights tourists on the sand dunes that surround Huacachina oasis sanctuary. Standing on a small piece of the board that can moved on the sand and slipping down through sand dunes while maintaining the body's balance. That sport is famous as sandboarding. Generally, Desert land is not a flat terrain. It has steep slopes in some places, and the slopes end in a sand dune that rises again. However, it is not easy to slip down with this board and balance the bodyweight on these sand dunes and slopes. The talented people who are skilled in this sport enjoy it a lot by engaging in that adventure sport. Untrained people who cannot stand by their feet on the sandboard while slipping down can lie down and slide on the board.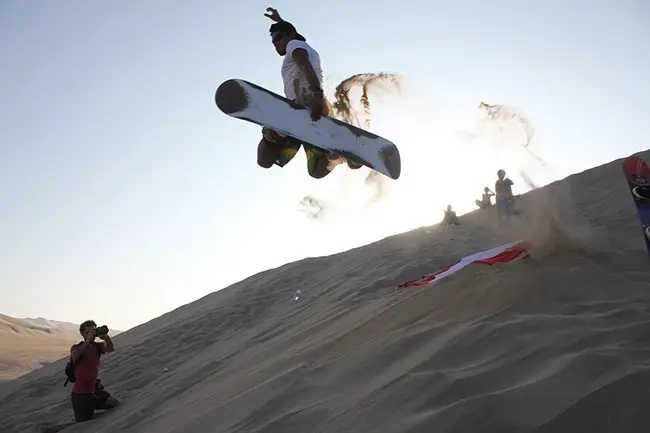 Roller coaster in Peru desert
Tourists can also experience an adventurous 'roller coaster' in the Peru mountain Valley. Desert roller coaster is a small truck, which can carry several passengers. It frightens all the vehicle passengers while riding fast along the sand dunes and ravines. However, you don't need to worry about its safety with the experienced and the skilled drivers who can drive it. Therefore this experience gets for many adventure lovers.
Sand dunes hiking
The city of Huacachina has surrounded by massive sand dunes that extend as far as the horizon. It makes a beautiful sight to behold. Tourists who love to climb mountains can also climb these sand dunes and walk on them. However, it is not an easy task, like climbing a rocky mountain.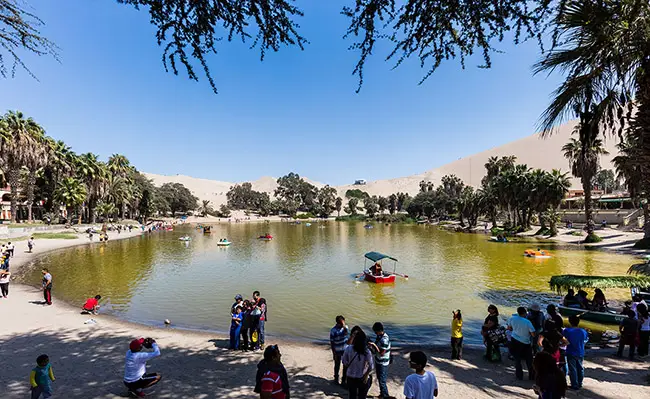 Local people of Huacachina oasis
The Huacachina people and vendors are always ready to give generous hospitality to the tourists who like to travel and enjoy this extraordinary experience. The permanent residents of this city are about 100 people. Their services including to cater to tourist's food and drink needs, to cater to them, to guide them. As well as to provide them with all kinds of wine reserves to make your trip a memorable tour.